The Battle of the Waal Bridge (Nijmegen)
Price: € 20,- pp
Date: Sat, Oct 08, 2022
Time: 10:00 - 14:00
Location: Nijmegen -C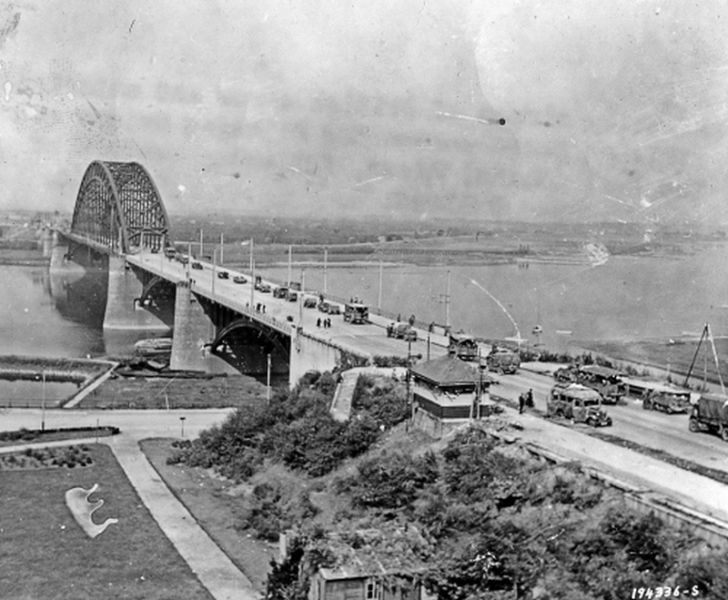 The city of Nijmegen played an important role during Operation Market Garden. With its two bridges over the Waal (the main branch of the Rhine) the capture of the city was vital for the planned advance to Arnhem.
The Waal Bridge
During the Roman Empire, Nijmegen was part of the Limes, the border between the Roman Empire and the various so-called Germanic areas. In Nijmegen (Noviomagum) was from 71 untill 104 n.Chr.het 10e legioen van de Romeinen gelegerd. In de Middeleeuwen bouwde Karel de Grote naar verluidt rond het jaar 770 een 'palatium' in Noviomagum aan de Vahalem, dat de toegangswegen tot de oversteekplaatsen ter plaatse beschermde. Daarom wordt de stad weleens aangeduid als keizerstad. Het is echter omstreden wat Karel de Grote in Nijmegen heeft gedaan. Pas in 1936 werd de 600 meter lange verkeersbrug (inclusief verhoogde opritten) gebouwd, tegelijk met de Rijnbrug in Arnhem. Beide bruggen werden in 1940 blown up by the Dutch army and rebuilt in the war. A thousand meters downstream is a railway bridge over the Waal. The old town that between the road- and railway bridges lay, was a typical maze of streets. When approaching the Waalbrug, the paratroopers of the 82nd Airborne Division quickly got into fierce street fighting..
The first attack on the Waalbrug
On 17 september 1944 the first attempt to clear the two bridges was made by units of the US 82nd Airborne Division, die waren geland in het nabijgelegen dorp Groesbeek. De Amerikaanse parachutisten slaagden erin om de Waalbrug tot 400 meter te naderen, maar werden teruggeslagen door Duitse troepen. De volgende dag werd de aanval opnieuw ingezet, maar ook deze aanval werd door de Duitsers afgeslagen. On 19 september 1944 maakten de grondtroepen van het Britse 30e Legerkorps contact met de luchtlandingstroepen in Grave. Een gecombineerde aanval op de bruggen werd ingezet, nu met steun van tanks van de Britse Guards Pantserdivisie. Maar weer werd de geallieerde aanval net voor de bruggen afgeslagen.
Het was duidelijk dat de bruggen niet konden worden bestormd. Een plan werd gemaakt om de bruggen op hetzelfde moment van beide kanten aan te vallen. Dat betekende dat er troepen per boot de rivier over moesten. On 20 september 1944 stak het 504th Parachute Infantry Regiment van de 82nd Airborne Division onder moordend vuur de Waal over. Ze slaagden erin een bruggenhoofd te vestigen op de noordelijke oever van de Waal en vanuit dit kleine steunpunt konden ze uiteindelijk de Waalbrug van Nijmegen bestormen en veroveren. Kapitein Moffat Burriss, commandant van Company I, herinnert zich: 'Bij zonsondergang bevonden we ons onder de massieve Nijmeegse brug. De dijkweg liep onder de noordkant van de brug door, deze werd ondersteund door enorme betonnen kolommen. Het begon donker te worden. Toen we naar de zuidkant van de brug keken, zagen we silhouetten van tanks die onze kant op reden. Terwijl we met handgranaten in onze handen wachtten, kwamen er twee tanks een paar meter voor ons voorbij. Ze waren Brits. Toen de derde arriveerde, kwamen wij tevoorschijn en riepen: "Hé, we zijn Amerikanen!" de tankcommandant stak zijn hoofd uit. Ik greep hem om zijn nek. "Jullie zijn het mooiste wat ik in maanden heb gezien".'
Praktische informatie
Tijdens de Battlefield Tour bezoeken we een aantal plekken die herinneren aan deze felle gevechten rondom de Waalbrug. Tijdens deze wandeling van 5 kilometer geeft een deskundige gids uitleg over de gebeurtenissen in september 1944 en toont u de sporen van deze gevechten die na 78 jaar nog steeds te zien zijn. De tour start en eindigt weer bij het Valkhof in Nijmegen. Na uw aanmelding ontvangt u van ons de praktische informatie.
---
De Battlefield tour staat onder leiding van Erik Jellema, gids bij Vrienden van het Airborne Museum
Hierbij is inbegrepen:
Koffie/ thee bij de start van de tour bij de Waalbrug

The entire morning is accompanied by an expert guide
Full Day Normandy Tour:
8 October 2022/ 10:00-14:00
Locatie:
Nijmegen centrum
Full Day Normandy Tour:
€ 20,-