Battlefieldtour 'The Island' – '44-'45: de strijd gaat door!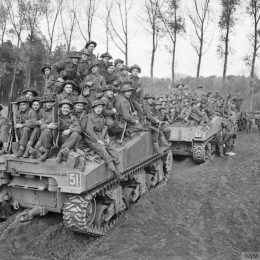 De kerk in Haalderen werd door de Duitsers voor terugtrekking begin december '44 opgeblazen. In dit dorp stond precies nog 1 huis dat enigszins bewoonbaar was….
From,,es,'Teerosen'-tour,,en,leads to the former locations,,nl,With this advanced level system the position of German day could,,nl,be tested,,nl,See home page / Events,,nl,Visit to Museum Deelen Airbase,,nl,incl.,,en,Museum entrance VIb Details and simple reader with background information,,nl,lunch rest,,nl,a reader,,nl,in binder,,nl,with extensive background information and incl,,nl,diary Unteroffizier Teerose,,af,is available for €,,nl,The participation fee is required upon payment,,nl 'Island 44-45′ dagtour omvat een uitgebreid bezoek aan de Overbetuwe, waar de strijd na Op. Market Garden eind september '44 overging in een statische stelling oorlog á la 1914-1918: beschietingen, bombing, aanvals-patrouilles, vernielingen en plunderingen onder barre winterse omstandigheden in deels overstroomd gebied. De verliezen aan beide zijden waren hoog. Het zou tot maart '45 duren voor de Geallieerde opmars verder ging via de corridor bij Langs en de Rijnoversteek bij Wesel (Operatie Veritable /Plunder)
We bezoeken zowel locaties bij Bemmel en Elst waar de bekende Engelse 49th West Riding 'Polar Bear' Divisie vocht, als die bij Heteren waar de Amerikanen van de 101 Airborne Divisie, w.o. de beroemde Easy Company van 2. Btln /504Rgt, een stuk dijk verdedigden. The Americans later called this period "The worst period of the whole European campaign"…..
RESERVATIONS: CONTACT
Mobile: 06-21865900 (ma-vr 09.00-17.00)
Email: DRG@hccnet.nl
PARTICIPATION FEES / DISCOUNTS / OPTIONS / ACCESSIBILITY
De deelnamekosten van deze Battlefieldtour (weekdays) amount to € 395,- (max. 8 people )
This amount is inc. expert 'badged' guide of the Guild of Battlefield Guides, entree Museum Heteren.
Als u geen eigen vervoer heeft geldt een toeslag van euro 25,- pp. voor meerijden in MPV van DRG Battlefieldtours & Books
Start excursie is station Nijmegen, Elst, of Arnhem, danwel uw hotel in de omgeving Arnhem/Nijmegen